As I have skied on three different skiboards I have written one review covering them all as a form of comparison. The boards used were the Line Jedi (with FF Pro bindings + 2 rubber spacers), Lacroix Titanals 99's (riser + Tyrolia SP130 release bindings) and finally Summit Custom 110′ s (riser + rubber spacer + Tyrolia SP130's)
Jedi's
I've skied for just over 29 years now since the age of 20. Skiing unshaped skis (planks), long skis and then long shaped skis. However about 15 years ago I wanted a bit of a change and did not want to go all the way to snowboarding etc. I'd briefly played on Big Feet and then had lots of fun on "blades" but was wanting something more so off piste was acheivable. So in late '99 I got a pair of Jedi's via importers from Canada.
Compared to blades these were fantastic and gradually I stopped taking my big boy's skis and just settled on the convenience and fun of the Jedi's – saving on lots of ski carriage as they went in my normal wheelie bag. Which also meant my back did not get jarred by the time I got to the slopes.
The Jedi's have been a good companion for me over the years (11 in all). I have only semi retired them due to wanting just a bit more surface area – partly due to extra weight from all the safety gear – otherwise they are basically as good as they were many years ago. Tuning the edges if need be (lightly) every other day along with and a quick hot wax – and it only takes a few minutes due to there relatively small size – to keep the speed and agility in them.
So basically the Jedi's are a lot of fun with some good credentials. On piste they are pretty good. Moguls fast and fun. Steep…whatever they just a grin. Possibly hard pack or ice are tricky sometimes where the shortness goes against them, but I've not had those conditions very often…we tended to spend even more time off piste when the conditions are like that.
Off piste they can do a lot once you are used to them. Which generally does not take too long. The Jedi's struggle on shallow gradients for someone of my size/weight (70Kg/154Lbs + ski gear), needing a certain speed to get them floating. But once they are floating then you are off. Which is especially fun when in the trees, particularly as there is less ski to catch.
An initial niggle with the skiboards was getting used to the fixed bindings (Line FF Pro's with 2 rubber spacers to raise binding) particularly after cable-cars/bubbles as you need to find out the do's and don'ts. Obviously doing anything on a steep gradient, or off piste is going to be tricky, so you need to have got that sorted before you venture there. I adjusted my bindings to accommodate this by making sure the heal and toe swing arms had some resistance (slight bend) so they would stay where you placed them – especially needed on the heal side. Then you do not need to use the strap to hold it up…Next I made an adjustment to the ankle strap as the clip would get full of compressed snow preventing it's ease of use. There I changed by modifying the strap so it could be placed under 2 boot buckles so no strap clips to connect. This meant if the ski did come off – it never did – then the strap was clamped under the buckles and prevent an escaping ski. Other than that a slight boot adjustment to the rear if a lot of off piste was to be undertaken and that was about it.
So other than the surface area of the Jedi's there was no downsides, just smiles all the way. Hence skiing on them for years and years.
I did adopt the use of collapsible poles within a year of the Jedi's as the poles gave you more options. Being collapsible you could keep them in your rucksack or collapse them down and hold them. But when you get to steep, deep or bumps they can bring back the "traditional" long ski feel. So the poles are there when you need them and not if you don't. Off piste, extending the poles meant that you could float on shallower gradients then without poles and when it got really deep you could extend them to give some additional stability along with a larger baskets.
Skiing wise I'm not a risk taker. I'll only start jumping etc if I've done a good few weeks skiing and my body is in the zone. I'll go fast and do everything, but as I never got into skiing at a young age my mind will not allow me to do the younger fancy jumps and flips…until I'm nice and supple that is.
My overall score for the Jedi's would be On Piste 8/10 Off Piste 6.5/10
Titanals
I then had an opportunity to get a bit more surface area and was going for some Summit Custom 110's but they sold out in January 11 so I ended up getting a pair of never used Lacroix Titanal 99's cheap of Ebay, some release bindings (new) and riser plates (new – non metal construction) which turned out to be from an old ski mate that had not heard from in 8 years.
The Titanals had a good surface area in comparison with the Jedi's but with the release bindings they were a heavier piece of kit. Just as much fun and with usable floatation on shallow off piste now – mainly due to the greater surface area. Hence they were quicker then the Jedi's on shallow gradients, but still required some conscious effort… A pair of 110's would be ideal. 120's would never fit in a wheelie bag, whilst transportation costs would mount up. Also 120's are just not Skiboards – in my opinion.
The Titanals were more noticeable under foot on piste – in a good way. Partly because of the heavier bindings and general construction/size. Along with the increased width changing the feel of when you go to edge etc. They had a nice carbon fibre style black graphic on top but with a light Lacroix worded bottom – ideally would prefer standard black for repairs etc.
I only skied on the 99's for a couple of weeks in Spring 2011. The skis were great, the bindings (Tyrolia SP130) messed around a little and needed some tweaking to resolve a front boot slide out issue (3 times) on aggressive turns on piste. This was resolved by taking the front DIN up to max (13). The beauty of this type of binding is it's a "rental" type binding, meaning that it can be adjusted for different boot sizes by just moving a lever – no tools. Which means you can quickly move the binding backwards (3-5cm) if you want to to move the balance point for different terrain etc.
As I did not use the FF Pro bindings on the Titanals I'm not sure how much of the feel on edge and going to edge was down to that. Basically, they just did what I wanted when I wanted.
Overall on piste the Titanal 99's were just as much fun in real terms, and I would give them 8.5/10. Off piste they cope a lot better then the Jedi's and hence move up to 7.5/10.
Summit
For Spring 2012 I got in early and purchased a pair of Summit Custom 110's (bamboo style woodies). I moved the Tyrolia SP130s on to 110s and added the larger of the high density rubber spacers from the Jedi bindings.Now I had the optimum Skiboard for my weight and what I liked to do – all terrain.
The 110's had low gradient floatation off piste now, along with a bit of speed. With much better floatation generally off piste, meaning no immediate need to move the bindings back a notch to help keep the tips up rather than strain yourself – that would only be deep fresh powder now I imagine. However, conditions were so so for the 3 weeks skiing that season (two weeks Tignes, one week La Plagne). Conditions had meant pistes had a lot of hard pack – not ideal for skiboards – so it was a tad hard work mentally at times. Not much powder also meant that for a while they could not really be exploited. However there was enough in "hidden" places to know that 110s were fully capable.
The 110's just add to Titanals which added to the Jedi's. But each are a lot of fun.
The 110's are more like the Titanals, especially with the SP130 bindings used. So they are quite heavy in comparison to the Jedi's with FF Pro's, but very stable. The main difference being the additional length then the 99's and differences in construction.
Obviously because of the increase length there becomes a greater risk of injury with a fixed binding. However 110 is still a fixed binding option for me for my weight/height and because I've skied for years. However the slight convenience of the release binding does mean that skiing with mates means you are never having a trickier moment then them. Running the bindings on a high DIN setting is preferred – by myself – especially as fixed is still an option. The binding will still release but only when it really needs to. So you can do fast aggressive turns in confidence and also not get heavy snow building up on the tips pulling the ski off. Whilst there is no "strap" to worry about as now there are traditional brakes (on some models…wise to get them as makes putting on easier for a start as they cannot slip away as easily).
I would say that the 110's and 99's are great skiboards. The 99's for young/short/light people and the 110 for all terrain/aggressive skiers/heavier skiers! Going with a release binding and collapsible poles (for all terrain, not really freestyle though) to give you greater flexibility – a collapsible ski pole is a reasonable good avalanche probe with the basket taken off and full extended if need be.
So for the Custom 110's I would say On Piste 8.5/10 Off Piste 8.5/10
I would not count myself as an expert skier even though I've skied for many many years. Partly because I feel to be an expert you need to be doing more that a few weeks a year. I'll ski anything and at pace, with loads of different turns, but unless I've skied for more than 2 months in a season I could not have the fitness level to do the things you do at expert level. However I'm always being told you can't ski those "blades" off piste and they are not quick enough. I just say well I find they cope just fine… By the end of the day the naysayers end up saying they are not sure why they use these long skis, as it appears short skis are just as good…even Ski Guides have had to be convinced that these (110's) are all terrain. Asking if I had longer skis with me or at the apartment – they had never had a skiboarder before! For me to say nope I'm fully kitted up for off piste, but these are the skis I use nowadays. By the end of day they too have said they're surprised how quick they are, and that how they cope with all types of off piste.
So there you have it. Skiboards – in my opinion – are highly underrated – it's a size thing…bigger must be better – and are great fun, convenient and basically can do what the big skis do, especially comparing against the norm of recreational skiers on big skis. So keep them tuned up every couple of days and they will just deliver every time whilst surprising the "nay saying others".
Rider – Spanners – Expert Skiboarder

Titanal 99's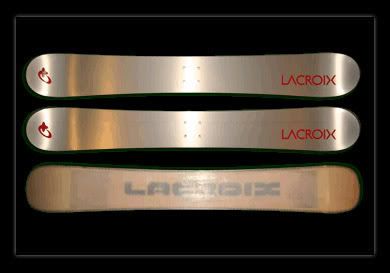 Woodies